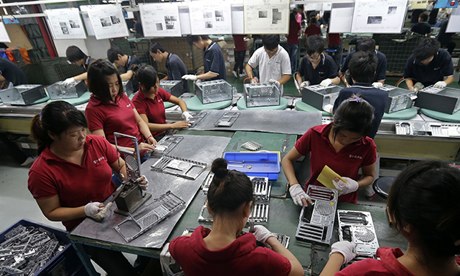 Internships at Foxconn are irrelevant to students' needs, say Chinese campaigners. Above, Foxconn factory in Wuhan, Hubei province. Photograph: Darley Shen /Reuters
In China there are about 22 million vocational students (aged 15-18) andFoxconn is one of the biggest employers of these as "interns" (Aditya Chakrabortty, 15 October). Foxconn internship programmes range from three months to a year, subject to extension as production requires. Aditya Chakrabortty cites independent research findings, which are strongly supported by Students and Scholars Against Corporate Misbehavior.
Internships at Foxconn are irrelevant to the students' studies and skills training. Under the high-speed production demands of Apple, Sony, Samsung, Nintendo, HP and other clients, Foxconn assigns teenage student interns to process iPhone casings, stick labels on boxes, and assemble game consoles. Interns are exposed to safety and health hazards on the line, without any insurance protection. Sacom found that Foxconn interns were forced to do excessive overtime and to alternate day and night shifts, against the regulations. In this global labour regime, provincial and lower-level government directly intervene to facilitate export-led growth, at the sacrifice of students' educational and human rights.
Good internship is an integral part of the vocational curriculum and is vital to linking theory with practice. In February 2012, Apple CEO Tim Cook failed to reply to students' and scholars' open letter on student labour exploitation. Today, we call on Apple, Sony and other tech giants to stop abusing Chinese student interns in their supplier factories, notably Foxconn. Together with conscientious consumers around the globe, we demand fair labour and decent work for all, including student interns in China, the UK, the US and other countries.

Liang Pui Kwan
Project officer, Students and Scholars Against Corporate Misbehavior
[LINK: http://www.theguardian.com/world/2013/oct/20/forced-labout-china-economic-miracle]